The Crony Corruption Political Payola Quid Pro Quo In The U.S. Department of Energy

– Bribes and crony quid pro quo political payola payments are paid to politicians in Washington DC and Sacramento, California to keep Big Tech monopolies in power!!!
The United States Department of Energy runs a political crony-payola slush-fund operation. They don't "support green cars"; they support "greenbacks for crony insiders who financed political campaigns". The U.S. Department of Energy violates anti-trust law by funding only the friends of The President and cutting out their competitors. Most observers think that the Department of Energy needs to be sued by the government on behalf of the citizens that were harmed and defrauded by the agencies schemes.
The DOE non-crony victims were specifically and illegally excluded from participation in funding, benefits, jobs and income by major political figures, including U.S. Senators and White House executives who they knew, and their Silicon Valley oligarch financiers. The victims had reprisal/retribution/revenge/retaliation hit-jobs put on them by Fusion GPS, Black Cube, Gawker/Gizmodo/Google and other media attack outlets. Financial records show that the hit-jobs were paid for by U.S. Senators and Department of Energy executives who owned the stock in the victim's competitors.
Biden Admin. Splashing $1.7 Billion on Electric and Low-Emission Buses Owned By DOE Boss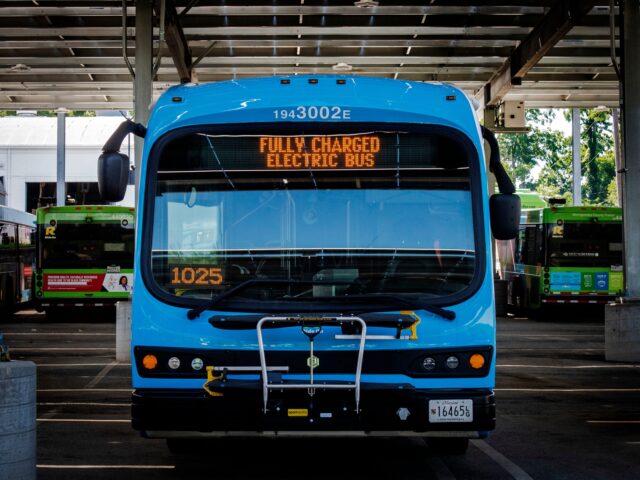 The U.S. Department of Transportation announced Monday it is releasing some $1.7 billion in grants to fund new electric and low-emission buses across the country.
The taxpayer dollars come from the 2021 infrastructure bill signed into law by President Joe Biden, AP reports, with the money going to transit projects in 46 states and territories.
"Every day, millions of Americans climb aboard over 60,000 buses to get to work, to school, doctor's appointments, everywhere they need to be," Transportation Secretary Pete Buttigieg said in a call with reporters.
"These are unprecedented levels of investment when it comes to putting modern cleaner buses on the road."
This is not the first time this administration has professed a love for electric buses, as Breitbart News reported, with Biden claiming back in 2021  "Diesel [from school buses] pollutes the air … and causes our students to miss school."
FLASHBACK: Joe Biden Blames Diesel Buses for Causing Students to Miss School
The White House / YouTube
0 seconds of 37 seconds
Volume 90%
Then 12 months later Vice President Kamala Harris added her voice to the claim telectric buses are the way of the transportation future.
"Today, 95 percent of our school buses are fueled with diesel fuel, which contributes to very serious conditions that are about health and about the ability to learn," she said during remarks in Seattle, referring to the pollution caused by school buses.
The vice president spoke about school buses at an event promoting Biden's attempt to replace diesel powered school buses with electric ones.
Harris claimed electric school buses represented everything the Biden administration stood for, including saving the planet from global warming.
"We owe it to our children to, right now, take these issues very seriously. The clock is ticking loudly," she said. "We are witnessing, around our country and around the world, the effects of extreme climate."
Kamala Cringe: VP Bizarrely Gushes About School Buses pic.twitter.com/HuI5a7vMTS

— Breitbart News (@BreitbartNews) October 27, 2022
Monday's announcement covers the second round of grants for electric buses and supporting infrastructure, the AP report sets out.
All told, the U.S. has invested a total of $3.3 billion in the projects so far. Government officials expect to award roughly $5 billion more over the next three years.
The Seattle area will be getting $33.5 million to purchase 30 electric battery buses and chargers.
The Washington, DC, transit authority will use $104 million to make a bus garage an electric facility and buy roughly 100 electric battery buses.
Money also is going outside of major U.S. cities, with Iowa City, Iowa, and the Seneca Nation in Western New York also receiving grants to embrace electric buses and low emission vehicles.
Jennifer Granholm began touting the "amazing electric car funding" from the Department of Energy and "inviting electric car makers to apply" for fabulous amounts of funding from DOE. Upon becoming the new Secretary of Energy, her staff had to report to her that the Department of Energy has fucked over every single car manufacturer in America and that there are no electric car makers that trust DOE except the handful of Obama buddies who already got cash from DOE. She quickly tried to pivot to "funding batteries for all kinds of stuff", only to find that you can't make batteries unless China allows you to. These two dumb, naive, moves clearly demonstrate the unprofessional and crony idiocy that DOE has become widely known for. Fuel cell cars, (like Toyota, Honda, Hyundai, etc. sell), work perfectly, use domestic materials, don't blow-up like lithium-ion batteries always do and solve all of America's energy problems. Fuel Cell's obsolete the batteries that Jennifer Granholm and her buddies own the stock in! In fact, Jennifer Granholm's Proterra lithium ion buses have been exploding into fireballs lately. Jennifer hates fuel cell cars because her stock market investments are in lithium.
Dept of Energy officials and operatives attacked applicants because those applicants cooperated with investigations of those political officials. The investigations looked at sex trafficking, tax evasion, off-shore money laundering, political bribery quid-pro-quo, revolving door payola scams, foreign nation-sponsored domestic manipulations, stock market rigging, internet censorship and search engine manipulation and other crimes.
The staff churn at the Department of Energy since 2008 has been nothing short of horrific. You find yourself talking to one major staff person one week and they are gone the next week. The Energy Department likes to sucker-in naive, wide-eyed, deer-in-the-headlights college kids with promises of "save-the-planet" and "cutting edge" but each new hire discovers that the come-on's are false. Once the new employee is inside the Department they can easily see the dirt, cronyism and insider schemes. Their dreams shattered, they head out to work for HUD or some other spot. The only ones that are still there, since 2008, are Obama's insiders that make sure that the money only goes to Obama's stock market partners. Department of Energy staff will lie like dogs to anybody who wants to apply for DOE funds. They will tell them that they have an equal chance of getting funded when they know that, even in 2021, only Elon Musk and the Obama sanctioned insiders will get to move forward.
The politicians attacked the whistle-blowers because they reported the crimes to federal police. They attacked them because non-crony applicant's products obsoleted the insider products of Tesla, Fisker, Solyndra and other crony companies owned covertly by Senators. They attacked the victims using taxpayer-funded state resources. That is a felony violation of the law.
The ongoing cover-up of these crimes and attacks is also a felony violation of the law. The victims are owed damages compensation, witness fees and back-pay. So far they have gotten nothing but cover-ups.
The Victim's engineering team, as early as 2005, had informed the Department of Energy, in writing that, as Lithium ion batteries age, the dendrite defects in their internal chemistry cause the batteries to constantly increase their tendency to blow up.
WHAT DOES THE FBI NEED TO INVESTIGATE AND REPORT TO THE PUBLIC ABOUT: